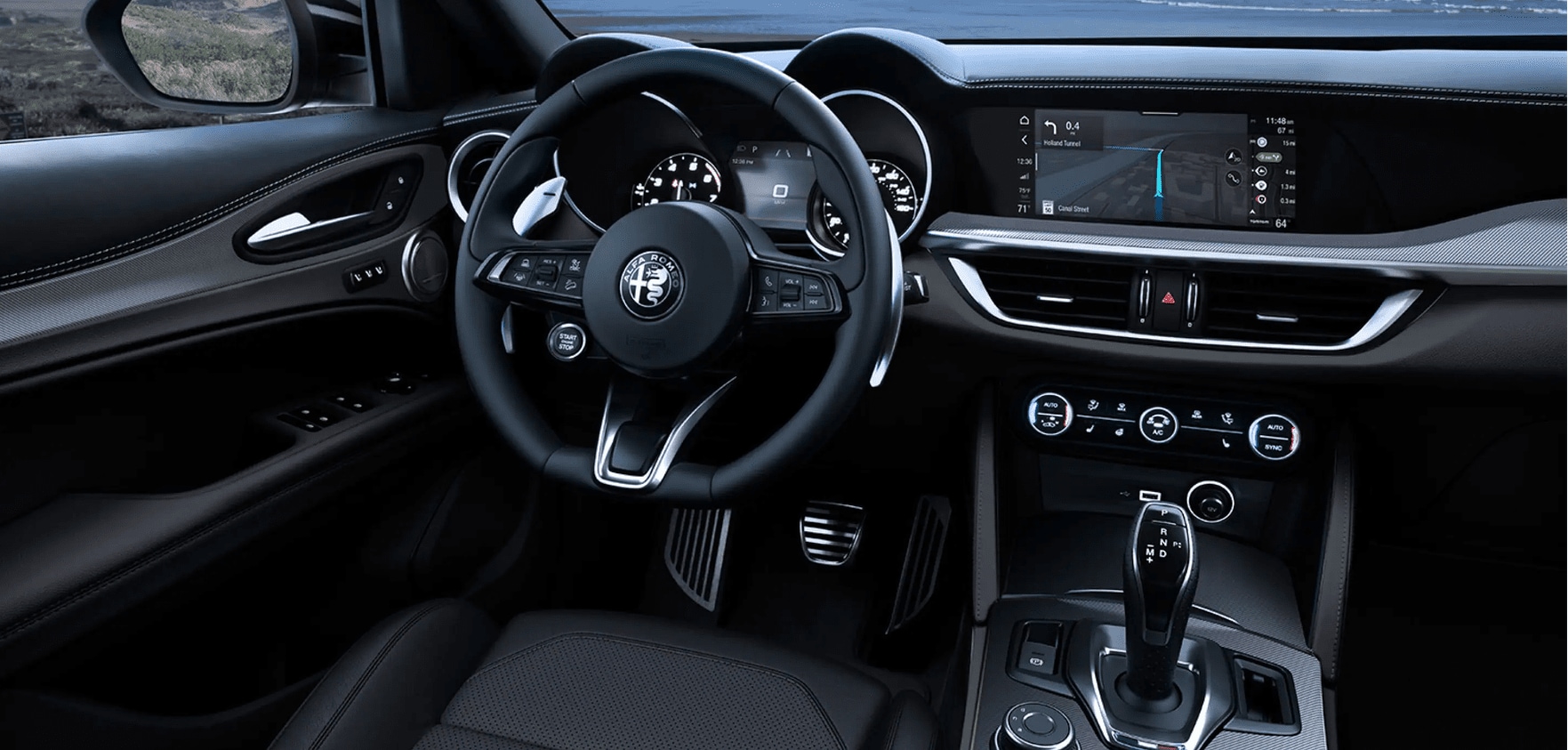 As one of its satisfied residents, you already know that Pearland impresses more than the fruits and vegetables that its name implies. This "agricultural Eden," as its developers originally advertised, offers plenty of family fun, excellent shopping, and exciting events. The youngsters can hunt for the four-foot-tall pear sculptures on the Pear-Scape Trail while you check out the name brands at the Pearland Town Center or the boutiques on Broadway Street. Among the many annual events is the TAAF Winter Games of Texas that invites amateur athletes of every age and skill to compete in basketball, karate, soccer, swimming, and other sports reminiscent of the Olympic Games.
Are you looking to explore the Shadow Creek Ranch Nature trail with the family? Then put everybody in the Alfa Romeo Stelvio, which pampers up to five on leather seats. You and the front passenger can customize your position with 10 power adjustments, including four for lumbar support. When you go further afield to 288 Lake for swimming or boating, you're protected by such assists as Forward Collision Warning-Plus and Lane Keep Assist. If you're craving house-made pasta in a Fettuccine Alfredo or Casarecce Al Pomodoro, take the Alfa Romeo Giulia to Taglia Fresh Italian. You'll easily find your way on the 8.8-inch touchscreen display and can call ahead for reservation when you wirelessly integrate your smartphone. If you're making the commute to Houston every day, drive the Alfa Romeo 4C Spider. It enhances your trip with a 25-horsepower 1750 Turbocharged four-cylinder that accelerates from 0 to 60 MPH in 4.1 seconds. On sunny days, you can drop the top to feel the wind in your face.
The best way to experience any of these models is to head for Helfman Alfa Romeo of Houston, which takes only 45 minutes north of Pearland with the following directions:
Get on Telephone Road/I-35 and head north.
Merge onto I-45 going north. Continue for about 2.7 miles.
Take one of the left two lanes to exit at 48B.
Merge with I-10 West heading to San Antonio.
Stay put in the second lane from the right to take Exit 761 B Antoine Drive/Silbert Road.
Take the left lane to merge with Interstate 10 Frontage Road West.
Take a sharp left into Interstate 10 Frontage Road East.
Take another sharp left into Interstate 10 Frontage Road West.
Make another left onto Interstate 10 Frontage Road.
The dealership will be on your right at 7720 Katy Fwy C in Houston. Need more information from a specific department or want to make an appointment for a test drive? Then call Sales at 877-894-1233, Service at 877-776-6473, or Parts at 877-283-2574.